Snowmobiling is one of the most thrilling ways to experience America's snow-lined backcountry. And Leadville, with its abundance of snow and national forest land, is the quintessential snowmobiling destination.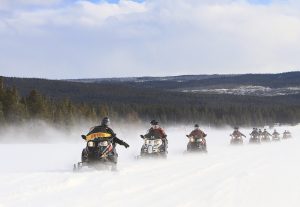 Snowmobile enthusiasts can find level tracks for beginners, rolling terrain for intermediates, and hair-raising deep powder for advanced riders. A ride around Leadville takes you in and around the San Isabel National Forest and to elevations that range from 10,000 to over 13,500 feet. A snowmobile ride in Leadville is more than recreation, it's a ride through history. In the city's Historic Mining District, snowmobilers can view remnants of the area's historic mining era. Just outside city limits, Camp Hale displays memorials for those who fought in WWII.
Explore Leadville's vast and far boundaries on Hagerman Pass or take in the insane scenery of Turquoise Lake. For a ride through the forest, check out East Tennessee Trail, a family-friendly trail just 3.5 miles north of Leadville on Highway 24, or Wurts Ditch Road, a level trail also north of Leadville and off Tennessee Pass.