While people enjoy exploring Leadville's mining district in the summer, heavy snowfall turns it into a sports enthusiast's wonderland.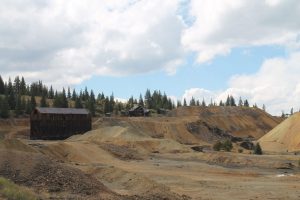 Leadville's Historic Mining District is located immediately east of downtown, at the ends of Fifth Street and Seventh Street. Also referred to as The Route of the Silver Kings, it's a web of roads that was once home to mining camps and mines, the remnants of which still stand today. In the winter, the city will only plow so far, after which roads are groomed for snowmobiling, snowshoeing, fat biking, and more.
Ample parking for trailers is available where the plowing ends, at the eastern-most ends of these streets.
Though snow is on the ground, it doesn't mean you shouldn't visit one of the mining days' most important cultural landscapes. With Leadville's ample sunshine and snow-blanketed landscape, some might argue winter is the best time to check out Leadville's Historic Mining District.
Historic Mining District