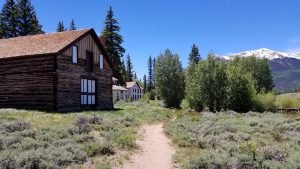 Interlaken Resort, located on the south side of Twin Lakes, was considered Colorado's most beautiful resort in the late 19th century. Built in 1879 and expanded after James V. Dexter bought it in 1883, it had some of the best facilities for the time and was a popular stop for those who traveled to nearby mining towns, like Aspen and Leadville. Guests came to ride horses, fish, hunt, and cruise along the lakes in steam-powered boats. They stayed in the hotel or the hotel annex and relaxed in the tavern or pool hall.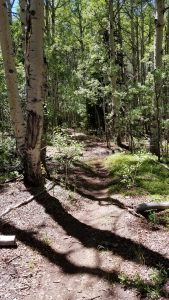 After the turn of the century, the first Twin Lakes dam was built, causing some sections of the lake to become shallow and stagnant. Fearful of malaria and other diseases then attributed to such water conditions, guests opted to stay away, which eventually led to the closing of Interlaken Resort.
For nearly a century, the resort's buildings were left to crumble. But in 1979, the Bureau of Reclamation agreed to record and stabilize the Twin Lakes Historic District, including Interlaken Resort.
Today, some of the resort's buildings remain standing and are open and free to the public. Most notable is Dexter's private cabin, which was designed to reflect his nautical interests. The resort can be accessed via boat or a short, easy hiking trail that starts at the southeastern end of the larger lake. This trail is also great for the novice to intermediate mountain biker. For a more challenging bike ride, continue west past Interlaken and along the lakes' southern shore, where the trail soon crosses the Continental Divide Trail.
Interlaken Resort Hiking Trail