The ultimate Colorado experience can be found at the Tennessee Pass Nordic Center, where cross-country ski adventures begin. Gear can be rented, food and drinks purchased, and lessons arranged. Located at the base of Ski Cooper, this fee-based network includes 16 miles of highly maintained and regularly groomed trails. With impressive elevation changes within the forests and easier, wider trails in the meadows near the pass, this Nordic ski area is ideal for beginners and advanced skiers alike.
With a complete rental program, visitors to the Tennessee Pass Nordic Center can try cross-country skiing, snowshoeing, and even fat biking, which continues to gain in popularity.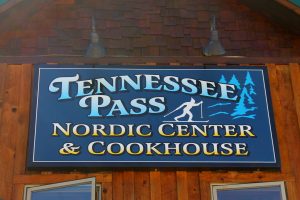 Guests can relax by the fire as they sip hot cocoa or a glass of wine. Soup, sandwiches, and other snacks are also available, making it easy to spend the day. For the best in backcountry dining, make a reservation with the Tennessee Pass Cookhouse. Hike or ski one mile to the cookhouse and enjoy a gourmet four-course meal, which may include Colorado delicacies like grilled elk tenderloin or rack of lamb. Add to your experience by spending a night in a luxurious and well stocked, off-the-grid yurt, the nordic center's newest amenity.
In the summer, the Tennessee Pass Nordic Center turns into an epic mountain bike adventure. Riders can circle the well-marked trail system for hours and enjoy a beer on the nordic center's sunny deck when their day is done.
For more information on the Tennessee Pass Nordic Center, visit www.TennesseePass.com.
Tennessee Pass Nordic Center