A mere 15 minutes south of Leadville is Twin Lakes, a small town nestled below Independence Pass and under the shadows of Colorado's tallest mountains.
Named for the two glacial lakes that take up most of the valley floor, Twin Lakes is a historic town that once served as a transportation center between Aspen and Leadville during Colorado's mining boom. Today, the town draws visitors for its recreational opportunities and scenic beauty. With Colorado's snowy peaks reflected in clear alpine water, it's easy to see why Twin Lakes is often considered one of Colorado's most majestic places.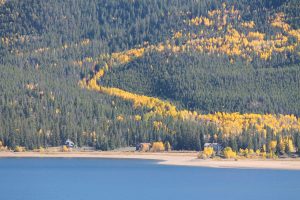 The two lakes in this valley were formed by glacial activity but were later enlarged to provide water storage for Colorado's Front Range. Now covering 2,700 surface acres, Twin Lakes offers the best in Colorado boating and fishing. Two boat ramps—one on the eastern side of the lake and one on the western side—make accessing the lake a cinch. For a more peaceful and aerobic lake adventure, drop in with a canoe, kayak, or stand up paddleboard. There are miles of shoreline to explore. The lakes' deep water is stocked every year with brown, rainbow, and cutthroat trout, which makes for excellent fishing. In the winter, when the lakes freeze over, Twin Lakes becomes one of Leadville's most popular ice fishing destinations. It is also where the Leadville Rod and Gun Club hosts its annual Twin Lakes Ice Fishing Derby.
There's more to Twin Lakes than its water. The area's campgrounds provide an easy starting point for all outdoor adventures. The National Forest Service Campgrounds are Dexter, Lakeview, Parry Peak, Twin Peaks, and White Star. While some can be reserved, most are first come, first served.
Hiking around the lakes is plentiful as some of Colorado's most popular trails are close by. The Colorado Trail and the Continental Divide Trail rim the mountains surrounding the lakes. Trailheads for Mt. Elbert and LaPlata Peak, two of Colorado's fourteeners, are located on the lake's edge, and the 12-mile Twin Lakes Loop provides brilliant scenery with little elevation gain.
Many of Twin Lakes' hiking trails are also great for mountain biking. The Twin Lakes Loop is perhaps the most popular. There are no major technical sections on the trail, making it a great family destination. It also passes through the historic Interlaken Resort, an abandoned 1880s lakeside resort that showcases several buildings in a grassy, lakeside setting.
On the right side of Highway 82, just west of Mount Elbert Lodge, is shoulder parking for Monitor Rock, a little-known rock climbing area with virtually no approach. Monitor Rock has close to 60 sport and traditional routes, ranging from one pitch to several. The great thing about this climbing area is that it's still accessible when CDOT closes the upper portions of the highway from the end of October to Memorial Day.
Outdoor enthusiasts need to look no further than Twin Lakes for the perfect Colorado getaway. From biking to boating, there's something for everyone.
Twin Lakes