At the end of the California gold rush, some prospectors came to the eastern Rocky Mountains, hoping for the same kind of success. Placer gold was discovered in Cherry Creek but was quickly worked out. Prospectors then headed to the high country where, in 1860, Abe Lee discovered placer gold in a seven-mile gulch called, California.
Within the year, thousands of miners descended on California Gulch, working 400 claims and pulling out 55,000 ounces of gold worth $91 million by today's standards. A makeshift town of tents and cabins sprang up known as Oro City. By 1866, after a total of 8,000 prospectors had come to mine California Gulch and nearly all gold deposits had been depleted, the short-lived gold boom ended, leaving Oro City to fall into economic hardship.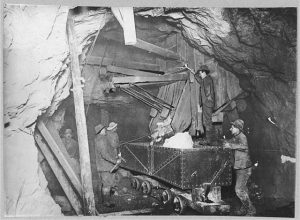 Though most prospectors packed up and left, some remained, moving closer to town where they mined underground rather than on the surface. Here, heavy black sand blanketed the area. In 1877, after assaying the sand, it showed to be 40% lead with about 15 ounces of silver per ton.
Miners began prospecting for the black sand, while the people in Oro City moved closer to the new mining operations. Houses developed, creating a need to name the developing town. Horace Tabor, who ran the post office, held the honor. In 1887, he chose Leadville, based on the lead ore found in the sand.
By 1879, the silver boom was in full swing, and by 1880, Leadville was home to nearly 30,000 people. Many new hotels, restaurants, saloons, and brothels sprang up. Mines spread southward and fortunes, like Horace Tabor's and the Guggenheim's, were made.
The Silver Boom came to an abrupt halt in 1893 with the repeal of the Sherman Silver Purchase Act. The price of silver plummeted, causing mines to close and unemployment to rise. Leadville suffered greatly, with its economy faltering once again. However, Leadville's silver legacy remains with barons like Horace Tabor erecting the Tabor Opera House and family fortunes, like the Marshall Field's, stemming from the boom.