Located in the Mosquito Range, Mosquito Pass travels from Leadville to Highway 9 north of Fairplay. At 13,186 feet, it's the highest pass in the United States. In the 1870s, Leadville's silver mining district was legendary, and this pass was used as the fastest way to reach the mines. However, it was a difficult route, and travelers eventually began using easier, though longer routes like Weston Pass.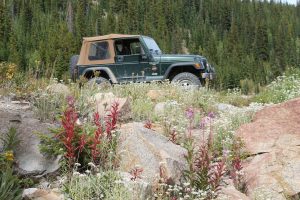 Mosquito Pass is ideal for ATVs and other OHVs. Be aware that the pass isn't drivable during the winter because it's often struck by unpredictable snowstorms and blizzards.
Mosquito Pass is home to the largest concentration of old mines in the world, with much of the original infrastructure still standing. Rockhounds interested in fossils should head one mile south of the pass, where crinoid fossils are present in exposures of Pennsylvania sandstone. This site demonstrates the dramatic uplifting of marine sediments that occurred during the formation of the Rockies and provides a day of excitement for those looking for ancient treasures.
To ride Mosquito Pass, head south on Harrison Avenue toward West Eighth Street. Continue onto CO Rd 3, which heads straight up the pass.
Mosquito Pass