Camp Hale is located between Leadville and Red Cliff on the Top of the Rockies scenic byway. Built in 1942, Camp Hale specialized in training soldiers in mountain climbing, skiing, and cold weather survival. At its peak, Camp Hale was home to 15,000 soldiers, some of whom went on to become part of the 10th Mountain Division.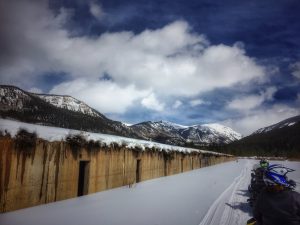 Today, visitors can explore remnants of the mid-20th century U.S. Army facility. There's also a National Forest campground with access to a wide variety of twisting roads perfect for ATVs. Vehicles can ride from the campground up towards McCallister Gulch and Hornsilver Mountain while enjoying great views of Resolution Mountain and the Holy Cross Wilderness Area.
Be aware, this trail is steep and narrow, traversing switchbacks on both ascent and descent. However, the summit rewards riders with spectacular 360-degree views and a glimpse of a 10th Mountain Hut.
Also available at Camp Hale are recently bolted climbing routes. With multiple climbing sections available, this gorgeous valley has become a popular destination for climbers of all abilities. The largest sections, with up to seven routes, are Mule Train and Piton Power Wall. Camp Hale's cooler summer temperatures and green scenery make it an ideal climbing destination.
When winter descends, Camp Hale becomes a large, thick blanket of snow perfect for snowmobiling. Riders can cruise along an open valley, explore a jungle of trails, and skirt some of Colorado's highest mountains. With a large parking area, it's easy to park a trailer and gear up for a ride.
Camp Hale