In the late 19th century, the president of the Colorado Midland Railroad built a line from Leadville to Aspen. Today, Hagerman Pass follows this train line, providing an adventurous way to get from Leadville to Basalt, where the Gold Medal Roaring Fork River awaits.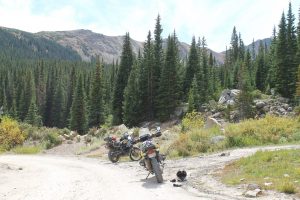 Ideal for ATVs and OHVs, the route takes off from Turquoise Lake, crosses the Continental Divide, and passes through two abandoned tunnels. At its summit, the pass reaches 11,925 feet and provides incredible views of Turquoise Lake and the Hunter Frying Pan Wilderness. Highlights of this ride include Ivanhoe, Seller, and Diemer Lakes, Hell Gate Canyon, and Hagerman Tunnel, for which a flashlight is highly recommended.
In the winter, swap out your ATV for a snowmobile. Hagerman Pass is one of Leadville's most exciting snowmobile trails and an awesome route for those who want to view Colorado's infamous snowy peaks from a higher elevation.
Rockhounds rejoice at Hagerman Pass, for they can expect to find black tourmaline within a white quartz matrix one mile north of the east portal of the Old Carlton Tunnel. The thin pegmatite veins found in these specimens are primarily feldspar. The white quartz tends to "blossom" and the black tourmaline is found as numerous pencil-like prisms.
Hagerman Pass is also great for those looking to spend a day on horseback. Take in fresh mountain air while traveling the way Leadville's earliest prospectors did—from the back of a horse.
Hagerman Pass Road