Five miles west of Leadville sits Turquoise Lake, one of Colorado's favorite high-altitude recreation destinations. Dammed in the 19th century and named for the rare turquoise deposits found nearby, Turquoise Lake offers 1,800 acres or year-round recreational fun.
In the summer, when thermometers throughout Colorado rise, Turquoise Lake's high elevation provides a great respite from the heat. With daytime temperatures hovering around 80°, visitors comfortably spend the day boating, fishing, biking, or simply relaxing on the beach.
Turquoise Lake's campgrounds are a treasure. Named for the nearby gold and silver mines and the mineral tycoons who owned them, they offer easy access to all of the lake's amenities. Some campgrounds look out over the water while others are tucked in forests and meadows.
For more information or to reserve a campsite at the Baby Doe, Molly Brown, or May Queen campground, visit www.Recreation.gov.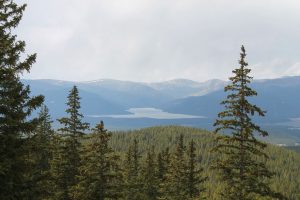 Boaters can soak up the sun at 10,000 feet after launching from Matchless Boating Site, a boat ramp located on the southeastern shoreline of the lake. Sailboats catch the mountain breeze while canoers and kayakers paddle at a gentler pace. When winds kick in, the lake is perfect for windsurfing—just be sure to wear a wetsuit because this high alpine lake is cold!
Turquoise Lake is also an ideal fishing destination. While fishing from a boat in the middle of the lake is ideal, its rainbow, brown, cutthroat, and brook trout can also be caught from an onshore fishing site at the dam. Although most of the fish caught at Turquoise Lake are under 20 inches, there's a good chance of hooking larger, hard to catch species.
The land surrounding Turquoise Lake is lined with trails and low trafficked, paved roads. Take an off-road adventure by parking at Sugarloaf Dam and mountain biking the 13-mile round-trip trail that goes along the lake to the May Queen Campground. With only a slight elevation gain, this trail is great for acclimatization. Road bikers can stick to the road that encircles the lake—a 15-mile loop that climbs 1,300 feet. Access for this ride can be found at any of the lake's campgrounds or picnic areas.
While summer is a popular time to visit Turquoise Lake, winter also provides many exciting outdoor activities. At such a high altitude, Turquoise Lake is guaranteed to freeze over, which makes for great ice fishing. Thanks to the High Riders Snowmobile Club, 25 miles of trails surrounding the lake are groomed for snowmobiling, fat biking, snowshoeing, and cross-country skiing. Leadville loves its winter sports, and there's no way it would let this recreational gem go to waste during the area's snowiest months.
Turquoise Lake

Save
Save