Elevate your appreciation for the environment and your surroundings with a cross-country ski on Leadville's scenic, well-groomed trails. With 300 days of sunshine and plentiful snow, Leadville is Colorado's premier cross-country skiing destination.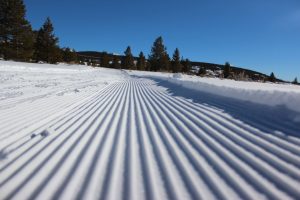 Keep your heart healthy and your lungs strong with this low-impact, total body workout. Known for being the best cardiovascular exercise available, cross-country skiing combines upper and lower body strength while working the pulling and pushing muscles of each region.
Cross-country skiing can be enjoyed by people of all ages and abilities, making it a great opportunity to bond with family and friends. There's no better way to enjoy Leadville's snowy trails and brilliant winter conditions. For the ultimate endorphin high, head over to the Tennessee Pass Nordic Center, the Mineral Belt Trail, Mt. Massive Golf Course, Colorado Mt. College, or the Leadville National Fish Hatchery for the best in groomed Nordic trails.