With one of the longest winter seasons in Colorado, Leadville residents take their winter sports seriously. So much so, Colorado Mountain College offers courses in Cross-Country Skiing and Ski-Area Management. Complete with grooming training, this course accounts for the miles of great groomed trails found around campus.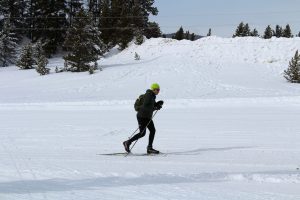 Located southeast of Leadville off Highway 24, Colorado Mountain College provides easy access to five miles of trails perfect for cross-country skiing, snowshoeing, and fat biking. In the summer, these trails are open for mountain biking. Their mellow grade and wide tracks make them great for beginners. However, there's also some singletrack for those who keep an eye out for it.
Disc golf enthusiasts are not forgotten in Leadville. With outrageous views of the continental divide, Colorado Mountain College's disc golf course is one of the most beautiful—and highest—in Colorado. Located right behind the campus, this course is marked by tight woods on the front nine and more open, longer holes on the back nine.
Download a Colorado Mountain College trail map and get started on your adventure today!
Colorado Mountain College