Tucked under Turquoise Lake, amid fir, spruce, and pine trees is the secluded and spectacular Mt. Massive Golf Course. With 360° views of the Sawatch, Collegiate, and Mosquito Mountain Ranges, this course may arguably be one of the most scenic in the country. At 10,152 feet in elevation, it's definitely the highest!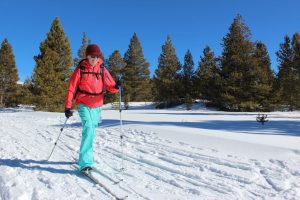 This nine-hole, public course is open from May through October. With affordable rates, Mt. Massive Golf Course is great for the novice golfer interested in trying out the sport.
When snowflakes start to fall, Mt. Massive Golf Course grooms miles of trails, turning itself into a cross-country skiing paradise. From classic style to skate skiing, beginner trails to advanced trails, there's something for everyone. Better still, this course is dog-friendly and rental equipment is available.
With biking popular year-round in Leadville, many fat bike enthusiasts also head to Mt. Massive Golf Course to take advantage of its groomed trails. With mellow grades and scenic loops, it's perfect for a winter ride.
Mount Massive Golf Course