Created by Executive Order in 1889 to increase the supply of fish for inland waters, the Leadville National Fish Hatchery is a Leadville mainstay that's been entertaining families for generations.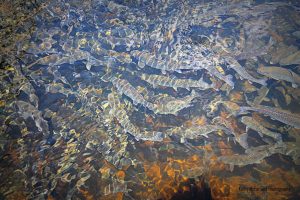 As the second oldest federally operated fish hatchery still in existence, it offers the opportunity to view all different stages of fish from inside its buildings or outside in holding tanks. For $.25, visitors can buy a bucket of food to feed the fish who jump wildly in large masses at the chance to get a piece.
Set on 3,000 acres, the hatchery's cold, clean water is superb for trout production. In fact, one-quarter of a million trout are raised here every year and sent to lakes and reservoirs throughout Colorado.
From the National Fish Hatchery's parking lot, visitors can access the Evergreen Lakes Nature Trail, a one-mile loop with awesome scenery, wild landscapes, and interpretive signs. Additionally, the Highline, Rock Creek, and Kearney Park trails all leave from the hatchery and connect with the Colorado Trail.
These trails are official winter trails marked with blue diamonds on the trees, making them ideal for cross-country skiing and snowshoeing.
Leadville National Fish Hatchery