Despite being landlocked, Colorado offers hundreds of stunning locations for fishing. With an abundance of snow and subsequent runoff, the Centennial State boasts more than 6,000 miles of streams and 2,000 lakes and reservoirs.
Under wide, blue skies and bright sunshine, Colorado's glistening waters are home to 35 different species of cold and warm water fish. While the state is famous for its trout, like rainbow, cutthroat, and brown, other fish, such as mountain whitefish and longnose sucker are also available. Colorado's fish hatcheries are active in keeping local ponds and reservoirs well stocked. Because of their efforts, non-native species that do not spawn within Colorado's natural habitats, like the Kokanee Salmon, are also found.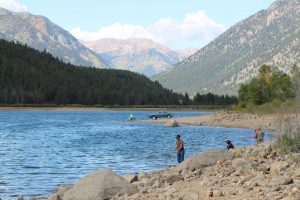 The Arkansas Headwaters Recreation Area is home to the Arkansas River, an ideal fly-fishing destination. Nearby high-altitude reservoirs like Turquoise Lake, Twin Lakes, and Clear Creek Reservoir offer hundreds of surface acres with jaw-dropping views. For a more intimate fishing experience, check out Hayden Meadows, eight miles of river that flow through a high meadow south of Leadville.
There are few activities that beat a warm day fishing from the banks of a Colorado river or reservoir. In it, there's serenity and the excitement of hooking a big one. At the end of the day, as the stars begin to twinkle, there's the sweet reward of stoking a campfire and enjoying a freshly caught dinner.
For more information on the fish species available in Colorado, visit Colorado Parks and Wildlife.
Hayden Meadows
Located just south of Leadville, along Highway 24, is a high meadow reservoir called Hayden Meadows. With incredible views of Mt. Elbert and Mt. Massive, ADA accessible trails, interpretive signs, and two bridges, it's a great place to walk and find quiet solitude.
Hayden Meadows is also an awesome place to fish. Located upstream from Twin Lakes, it's not impacted by release water, making for lower flows than are typically reported downstream. The meadows surrounding the reservoir are thick with green grasses during late spring and early summer. There are plenty of bugs in these grasses to use as bait, particularly grasshoppers, whose active nature lures fish to the water's surface.
Hayden Meadows