Leadville is located in the Arkansas Headwaters Recreation Area, where some of Colorado's heaviest runoff aggregates into the beginning of the Arkansas River. Also referred to as the Upper Arkansas River Basin, this area is one of the country's most popular locations for kayaking and whitewater rafting. Here, riverbanks are lined with outfitters ready to take guests through roaring rapids and notable geologic sites like Browns Canyon.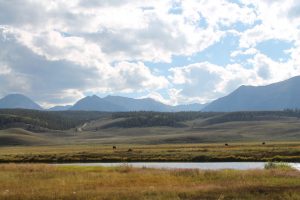 The 152-mile stretch of river starts in Leadville, runs along the base of the Sawatch Mountain Range, passes through Buena Vista and Salida, and ends in the plains of Pueblo. On these 152 miles, boaters can experience the thrill of Class IV and Class V rapids, run a stretch of calmer, family-friendly water, or relax on a riverside beach.
For anglers looking for an adventurous fishing trip, the Arkansas's Gold Medal water can't be beat. Choose any one of the many pull-offs along Highway 24 and hike down to the river's edge for a chance at catching brown and rainbow trout. Whatever you choose, with 2,000 fish per mile on average, chances of catching something are high! Fishing the Arkansas River is best from September to April when the flow is low. However, the river's high CFS tends to drop at the end of July, making August a promising month as well.
With six campgrounds consisting of 102 sites, camping in the Arkansas Headwaters Recreation Area is plentiful. Except for Five Points, all campgrounds are located on the river and have boat ramps. The campground closest to Leadville is Railroad Bridge, which offers RV and primitive sites.
To book a campsite at Railroad Bridge, visit www.ReserveAmerica.com.
Arkansas Headwaters Recreation Area