Twenty miles south of Leadville is Clear Creek Reservoir, a body of water that's part of the "Eleven-Mile Reach," a 500-year-old floodplain that starts at the confluence of the Arkansas River and California Gulch and stretches 11 miles downstream. Clear Creek Reservoir is one of the floodplain's most rewarding and reliable fishing locations, consistently recording catch rates of one fish per angler each hour.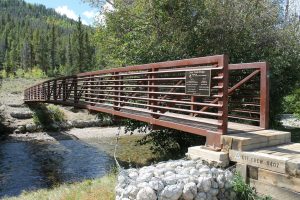 The most common fish caught in this 400-acre reservoir are rainbow, cutthroat, and brown trout with an average length of 13 inches. However, when well stocked, kokanee salmon are also available.
Clear Creek Reservoir is a popular boating destination. Though not as big as nearby Twin Lakes, it does offer unparalleled beauty. Motorized boats are allowed on the reservoir May 7th through September 27th, Thursdays through Sundays, 7am to 5pm. A concrete boat ramp and boat dock make it easy to launch a boat, while a free campground with room for RVs provides an opportunity for overnight stays.
For a scenic drive, head past the reservoir and into Clear Creek Canyon for a view of relics from the area's early mining days. Pull over and check out the ghost towns of Beaver City, Vicksburg, Rockdale, and Winfield. As you drive, keep your windows down to listen to the tumbling water of Clear Creek, which runs the length of the canyon and is a tributary to the Arkansas River. Better yet, travel Clear Creek Canyon from the back of a horse. With the remnants of Leadville's boom days around you, it's easy to imagine what it was like to live as a miner in the late 19th century.
Clear Creek Reservoir

Save