With the arrival of warm springtime temperatures, Colorado's snow trickles into streams, flows into creeks, and finally joins a mighty river where it becomes whitewater. It's during this time of year that rafting season gets into full swing. The water is high, the flow is fast, and the thrills are endless.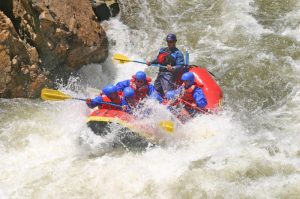 Leadville is located in the Arkansas Headwaters Recreation Area, where thousands of visitors come every year to experience the country's best rafting and kayaking. No river has better whitewater than the Arkansas, and Leadville is the place to check it out.
Take your family and friends for a high adrenaline ride down the Arkansas. Get your blood pumping as you crash through the waves and get bucked through the air. Enjoy the ultimate outdoor experience with a rafting or kayaking trip and make memories that will last a lifetime.