It's no secret Coloradans are passionate about biking. For many, two-wheeled fun means hitting roads and paths the moment the snow has melted. With Colorado's endless blue skies and 300 days of sunshine, who can blame them?
Road biking provides the freedom to travel from town to town, explore side streets, and cover great distances. Bikes are light and fast, and the sport can be done in a group—making it very social.
There's also a 'flow' that happens on a road bike, which some people describe as the secret to the sport's popularity. It occurs when a biker is so engaged in his ride, he loses track of time, doesn't realize how hard he is pushing his body, and forgets he's challenging himself at all.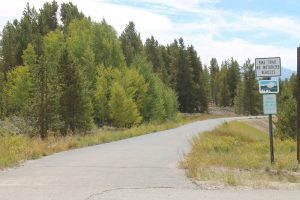 Experience the joy and the 'flow' of road biking in Leadville, where cool summer temperatures and awe-inspiring mountain views make for the ideal ride. Some of Leadville's most popular road rides include Twin Lakes to Independence Pass, Turquoise Lake, the Mineral Belt Trail, and the Copper Triangle.
The Copper Triangle
The Copper Triangle, also referred to as the "Leadville Loop," is a notorious Colorado ride. Though it's long—clocking in at 79 miles—it can be ridden in sections for a more manageable, support-free trip.
The Copper Triangle starts at Copper Mountain, where riders head up Highway 91 and over Freemont Pass. After this is a great descent into the valley north of Leadville. Riders then head northwest on Highway 24, where they'll pass the remains of the 10th Mt. Division Training Camp and climb Tennessee Pass and Battle Mountain. A long descent passes forests, streams, and meadows before riders end up in Minturn, a small Vail Valley town. From here, riders access the I-70 bike path, head east over Vail Pass, and back down into Copper Mountain.
The Copper Triangle