Located within an 1899 Victorian school building (Leadville's original high school), the National Mining Hall of Fame & Museum has been hailed as "the Smithsonian of the Rockies" and "the Premier Showcase of American Mining." Founded in 1987, this museum chronicles U.S. mining history while providing a hands-on look at how the extraction of minerals and metals supports our lives in the 21st century.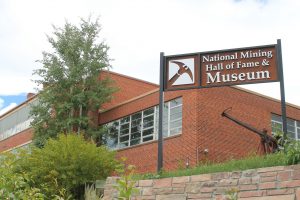 Visitors can examine more than 1,000 minerals, crystals, and gems from around the world, pan for gold, and walk through replicas of underground mines. Exhibits also showcase sculptures, murals, paintings, historic maps, detailed dioramas depicting the early days of mining, and photos. On the museum's fourth level is a terrace offering awe-inspiring views of the Rocky Mountains from the highest point in Leadville—a perfect place to end a fascinating and fun visit.
For more information, visit www.MiningHallofFame.org.
National Mining Hall of Fame & Museum
120 West Ninth Street
(719) 486-1229