At the height of Leadville's mining days, the city's population hit 30,000, 300 of whom were Jews. This courageous community built Temple Israel in 1884, the oldest of the area's synagogues.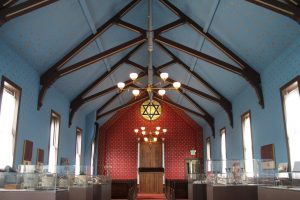 The temple has since been a single-family home, a house for miners during WWII, a vicarage for St. George Episcopal Church from 1955 to 1966, and a rental home until 2006.
After a damaging fire in 2006, the Temple Israel Foundation secured four grants from the Colorado State Historical Fund to restore the temple to near original condition.
Today, Temple Israel documents life for Jewish pioneers during Leadville's mining days. Visitors learn what brought these people to Leadville and what sort of businesses they pursued. You may be surprised to learn why whiskey jugs are on display!
For more information, visit www.JewishLeadville.org.
Temple Israel
201 West Fourth Street
(303) 709-7050