Leadville celebrates its history, environment, and love of a good old party through several annual festivals and events. It doesn't matter what time of year it is. If it's snowing or if it's warm, there's always something fun to do in Leadville.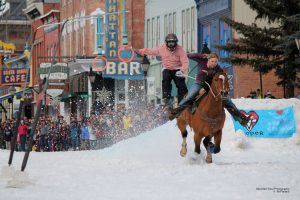 Leadville's summers draw world-class athletes who compete in the Leadville Race Series, which always creates an electrifying atmosphere on Harrison Avenue. Party goers, however, may prefer to check out June's BBQ and Brews Festival, a celebration of good times, good food, and good music. The festivities continue into August with Boom Days, an homage to Leadville's vibrant mining past. With activities for people of all ages, it's an excellent way to spend the day with the family.
Entertainment doesn't stop when the streets are covered in snow. In classic Leadville-style, heavy snowfall brings out the biggest crowds for Ski Joring, a unique event where racing horses pull skiers down Harrison Avenue. Ski Joring is like nothing you've ever seen and a must for any bucket list.
For more events in Leadville, check out Leadville.com's event calendar.