The 1860s-mining boom changed the face of Colorado as high-country mining towns spread like wildfire. Today, the Top of the Rockies scenic byway connects these historic towns while providing drives filled with mountain peaks, lush valleys, and roaring rivers.
Leadville is at the heart of the Top of the Rockies scenic byway. From here, drivers can head south on Highway 24, then west on Highway 82 past Twin Lakes, over Independence Pass, and into Aspen. Drivers can also choose to head northwest out of Leadville toward Minturn, or directly north on Highway 91, over Freemont Pass, and on toward Copper Mountain.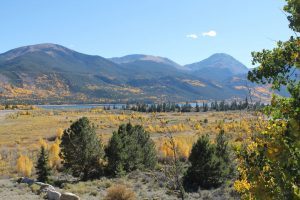 Famous for rarely dropping below 9,000 feet, the Top of the Rockies scenic byway offers some of Colorado's most stunning views. For 115 miles, this paved, two-lane highway careens over mountain passes, under 14-thousand-foot mountains, and through historic mining towns. On this two-hour drive, passengers might spot bighorn sheep, pronghorn antelope, red tail foxes, or mountain goats. For those looking for adventure, Top of the Rockies offers access to a vast number of trails and recreational activities, such as hiking, climbing, mountain biking, four wheeling, cross-country skiing, and snowmobiling.
It's hard to miss the lakes and rivers that line this scenic byway. For those visitors looking for an ideal fishing spot or a put-in for their kayak, they only need to pull over and walk a few feet.
For a detailed map of Top of the Rockies scenic byway, visit www.TopoftheRockiesByway.org