At 10,200 feet, Leadville feels as though it touches the sun. With more than 300 days of sunshine each year, it's almost always a great time to play outside. Summers are marked by fields of wildflowers, comfortable daytime temperatures in the mid-70s, and crisp nighttime air. In the fall, aspen glens change to red, yellow, and gold and shine in contrast to surrounding pine forests.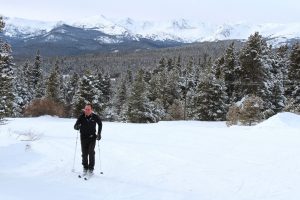 At such a high altitude, all-natural snow is abundant, making this city a winter wonderland. With an average of 120 inches of snow each year, Leadville's landscape knows no limits when it comes to skiing, snowshoeing, fat biking, and snowmobiling. While winter temperatures can dip into single digits, the bright sun is quick to warm you up. In the spring, melting snow from Colorado's tallest peaks causes rivers to rise and valleys to turn a deep shade of green. Though trails can be muddy this time of year, temperatures are ideal, averaging in the mid-50s.
High Altitude Precautions
The higher your elevation, the thinner the air is. This can make it hard for your body to get enough oxygen and ultimately cause altitude sickness. Altitude sickness symptoms include fatigue, headache, dizziness, insomnia, shortness of breath, nausea, and decreased appetite.
To help avoid altitude sickness, take the following precautions:
Hydrate yourself by drinking lots of water. When you first arrive in Leadville, avoid caffeine and alcohol so you don't deplete yourself of water.
Eat potassium-rich foods like bananas, broccoli, avocados, and potatoes.
Take it slow. Don't jump right into a rigorous, physical activity. Make sure your body feels okay before attempting that fourteener.
With less water in Leadville's air, there's 25% less protection from the sun. Stay protected with a hat and sunscreen.
Weather Reports and Forecasts
Plan your travels and activities accordingly. Get the latest Leadville weather reports and forecasts.
***LINK***
Road Conditions
Before hitting the road, check Leadville's road conditions.
Colorado Department of Transportation – Road Conditions
Avalanche Conditions
Leadville is king of the backcountry. With so many mountains and hundreds of miles of open space, heading into the wilderness is a popular pastime for locals. However, when snowfall is heavy, it's important to consider the possibility of an avalanche.
Thousands of avalanches occur every winter in Colorado. But when they involve people, they are usually deadly. To better prevent the onset of an avalanche, arm yourself with a solid understanding of the basics.
Take an avalanche safety class so you know what to look for in terrain, weather, and snowpack.
Recognize weather patterns and the "feel" of the snow.
Dig a snow pit to test the snow's stability.
Bring appropriate gear, such as an avalanche transceiver (beacon), a snow shovel, and a probe.
To learn more about Leadville's current avalanche conditions, visit the Colorado Avalanche Information Center.