Prospectors seduced by the calls of gold and silver raced to Colorado in hopes of striking it rich. Following them were the merchants, proprietors, madams, and gamblers. Together, these new arrivals turned mining camps into towns where the wild west came alive.
Good luck does not last forever. Once the gold and silver were gone, so were the people, who left the towns' structures in their wake. Today, Colorado boasts nearly 150 documented ghost towns, many of which can be found around Leadville.
A gorgeous drive down Clear Creek canyon passes large ghost towns such as Vicksburg and Winfield. A hike above tree line exposes the remnants of Columbia City, while a short walk around Twin Lakes brings you to Interlaken, an abandoned lakeside resort.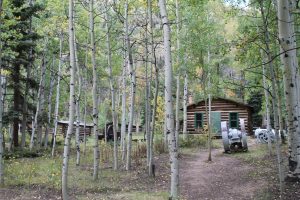 Vicksburg
Clear Creek Canyon—halfway between Leadville and Buena Vista—is full of ruins from Colorado's early mining days. At that time, Vicksburg was the second largest town in the canyon with around 600 to 700 people. In its heyday, Vicksburg had many buildings, including a post office, a school, and two billiard halls.
Discovered by accident when some burros wandered off, leading prospectors to find gold in its creek beds, Vicksburg now offers visitors a glimpse into life at a mining camp. Currently, there's a small museum that's open on the weekends during the summer and an outside voice recording that tells Vicksburg's history. In the fall, visitors can enjoy the changing colors of the balsam poplars planted by the original prospectors.
Vicksburg

Winfield
Down Clear Creek Canyon is the ghost town of Winfield, a place once home to several mining camps in the late 1880s. Discovered in 1881, Winfield's 120 acres were split into small parcels, which were then given away free to anyone willing to build on them. Nine years later, Winfield was home to 1,500 people, three saloons, three stores, a post office, a miller, a smelter, a church, and a school with a false front—a rarity for it were usually stores that had false fronts.
Visit Winfield today and explore four of its original log buildings, including the school and Ball Cabin, which serves as a museum with historic photographs and artifacts. Within walking distance from Winfield are several historic mines, including Crescent Mining Camp, Tasmania Mine, Swiss Boy Mine, Fortune Mine, and Banker Mine. There's also Clohesy Lake, an abandoned fish hatchery.
Winfield

Crescent Mining Camp
Travel back in time to the days of the mining boom with a stay at Crescent City Mining Camp in Clear Creek Canyon. There are four cabins to stay in, two of which can be reserved at www.recreation.gov.
Tasmania Mine
A group from Philadelphia named the Tasmania Mining and Milling Co. worked about 30 claims year-round. Though activity and building at the Tasmania Mine continued throughout the 19th century, the mine officially closed its operation in the early 1900s.
Swiss Boy Mine
Hike north of Winfield to find Swiss Boy Mine, one the first mines in the area that produced silver and copper ore. Today, the structures are accessible via a well-hidden, 9% grade hiking trail that is easily passable.
Fortune Mine
In the 1800's, the Fortune Mine built a tramway 2,600 feet in length to better transport excavated minerals. As one of the top producers in the La Plata Mining District, its tailings scar—still visible from County Road 390—is a perfect illustration of the mine's heavy activity. Head over to the Vicksburg Museum to check out the mine's tram, which was moved there for historical preservation in the 1970s.
Banker Mine
The Banker Mine, with its eight claims, produced a great amount of silver and lead. This was in part due to its 3,700-foot-long tunnel—the mine's claim to fame. Started in the late 1890s, the mine operated off and on until 1927. Today, two buildings remain—a bunk house and an office building.
Clohesy Lake
Though Clear Creek Canyon was laced with productive claims, Closhey Lake fell short, never amounting to any major finds. In turn, a fish hatchery was built in the area, for which it became best known. Today, the 1885 fish hatchery building still stands, overlooking Clohesy Lake.
Columbia City
In 1893, Walter Cameron discovered a vein of precious granite in the Hope Mining District west of present-day Granite. Naming it the "Josephine Lode," he continued mining, eventually hitting several other lodes with names like Fool, Gwendolyn, and Columbia, which ultimately gave the town its name.
The road to Columbia City is still open and leads to a gorgeous hike with unparalleled views. While there are just a few structures still on this site in various stages of decay, it's incredible to imagine how prospectors spent their days above tree line, manually breaking away rock in hopes of striking it rich.
A four-wheel drive car is necessary for reaching Columbia City. Once the gravel road becomes too difficult to drive on, hiking the remaining distance is recommended. Many shafts and tunnels still exist. These can be dangerous, so be cautious when exploring and be extra careful of deteriorating buildings.
Columbia City
39.068727, -106.289814