Jefferson Randolph "Soapy" Smith was a con artist, gangster, crime boss, and saloon and gambling hall owner who rose to fame while in Denver from roughly 1879 to 1892.
Though he grew up poor, Smith secured a small fortune by conning spectators out of their pocket money with the "Prize Packet Soap Racket." In this Denver-based con game, he would tell his audience that a one-hundred-dollar bill was wrapped in one of his stacked soap bars. For $5, spectators had a chance at choosing the winning bar. Of course, the bar was marked and the only winners were hired by Smith, thus the big payoff and a nickname that would stick with him for a lifetime.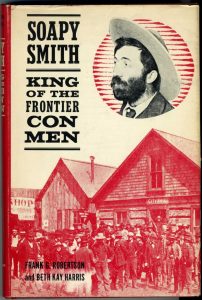 Soapy Smith reaped the rewards of his con games for many years, eventually opening his own gambling house, the Tivoli Saloon, and a gambling hall. His business ventures afforded him a lavish lifestyle, despite the lies he used to attain it.
While Smith's fortunes were made in Denver, his con game was perfected during his late teens in Leadville, where he landed after a string of odd jobs in Texas and Kansas. Here, he became a hawker for a man named Taylor, who conned people using the old shell game—guess which shell had a pea under it. Learning the tricks of the trade, Smith developed his smooth talk, professional gestures, and eventually, the soap game, which became his signature con. When the streets of Leadville became too small for Smith (or when people started to catch onto his tricks) he moved to Denver, where his true fortunes were made.