Leadville has a vast history rooted in mining and the outdoors. Following are key events that have occurred since gold was first discovered in 1860.
1860 – Abe Lee Discovers Gold
On April 26, 1860, Abe Lee discovered a rich load of placer gold in California Gulch, one mile east of Leadville. Three months later, Colorado's gold rush was in full force, forever changing the state's landscape. By the end of that summer, Leadville's population reached 10,000 and $2 million in gold had been extracted from California Gulch and nearby Iowa Gulch.
To capitalize on his find, Lee staked nearly all of California Gulch with speculative claims, which led to the establishment of the Bylaws of the California Mining District—regulations on the number, size, and type of claims that could be filed. Because of these fair laws, more prospectors descended upon an already crowded California Gulch.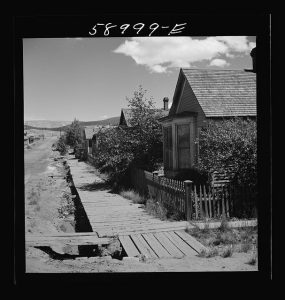 1877 – Silver Discovered
By 1866, nearly all of Leadville's placer gold deposits had been depleted, causing most miners to pack up and leave. The remaining prospectors moved closer to town where heavy, black sand blanketed the area. In 1877, after assaying the sand, it was discovered to contained 15 ounces of silver per ton. Early silver prospectors kept this silver discovery a secret for nearly two years. By 1879, word had spread and Leadville once again became a boom town.
Prospectors and merchants quickly returned to Leadville. Many new hotels, restaurants, saloons, and brothels sprang up. Mines spread southward and fortunes, like Horace Tabor's and the Guggenheim's, were made.
1878 – Leadville Gets its Name
Leadville has had several names since its discovery. It's been known as California Gulch, Boughton, because of the once popular shelters made of tree boughs, Cloud City, because of the way the town is often covered in clouds, Harrison, after the owner of the first smelter, and Slabtown, because of the temporary homes built on slabs. It wasn't until 1878, when the town petitioned for its first post office, that Horace Tabor gave it its official name, Leadville, after the lead ore found in the area.
1879 – Tabor Opera House Opens
Horace Tabor, one of the country's most notorious silver magnates, is known for many things. Among them was the construction of the Tabor Opera House, an entertainment hall billed as "the finest theater between St. Louis and San Francisco."
Most of the building's materials were brought up via wagons, making it one of the costliest buildings ever constructed in Colorado. The building was three stories high, made of stone, brick, and iron, and trimmed with Portland cement. The exterior was painted in red, gold, white, and sky-blue. Inside, red plush seats filled the theater and a curtain with an image of the Royal Gorge draped the stage. Despite its opulence, the Tabor Opera House was built in record time—a mere 100 days!
The Tabor Opera house was a testament to Leadville's rich and sometimes rough history. After opening in 1879, it brought art and culture to a town whose roots lay in mining camps.
1879 – Interlaken Hotel Opens
In 1879, John Statley and Charles Thomas built a hotel on the edge of Twin Lakes. Four years later, James V. Dexter bought the property and turned it into one of the most luxurious resorts Colorado had to offer.
Interlaken Resort possessed some of the best facilities available at the time. Visitors enjoyed gorgeous lake views, a log tavern, a pool hall, and a shed to accommodate horses. The resort fell on hard times when the lakes' original dam was built at the turn of the century, causing the water to become stagnant and igniting fears of malaria and other diseases.
Today, a short hike around Twin Lakes brings visitors to the remains of Interlaken Resort. The most notable structure is Dexter's cabin, which was built in the mid-1890s to reflect his nautical interests.
1893 – The Bust of the Silver Kings
The 1879 Silver Boom dramatically expanded the west, particularly Colorado's high country. Leadville's silver lode alone brought in $82 million. Colorado's economic growth was in part due to the Sherman Silver Purchase Act, which required the U.S. government to purchase millions of ounces of silver each year. This good fortune came to a sudden end when the Act was repealed in 1893, causing silver prices to drop, wages to decrease, and unemployment to rise. Silver barons, like Horace Tabor, lost their fortunes, leaving Leadville's economy on shaky ground.
1896 – Creation of the Leadville Ice Palace
After the repeal of the Sherman Silver Purchase Act, silver prices dropped, mines closed, and Leadville, which had experienced years of boom, fell into economic hardship. Hoping to draw visitors, create jobs, and revitalize the economy, Leadville's residents built the Leadville Ice Palace, a "fairytale come true."
Constructed in 36 days and using 5,000 tons of ice, this 58,000-square-foot palace had an ice skating rink, a curling rink, a theater, toboggan runs, a ballroom, a dance floor, gaming rooms, and a carousel house.
Located between Seventh Street and Eighth Street on the top of Capital Hill, Leadville's Ice Palace was open for three months, from January 1st to March 28th, when it started to melt and was condemned. Still, people continued to use the building all the way through June, when the skating rink was at last unusable.
Though the Ice Palace turned out to be a financial disaster for investors, there was still magic in it. For those who had the pleasure of visiting the Ice Palace, it was said that when "the sun shone through the ice, it looked like 1,000 sparkling lights."
1907 – San Isabel National Forest Established
San Isabel National Forest is one of eleven national forests in Colorado. With over 1 million acres of land, it consists of snow-capped peaks, sparkling lakes, rich meadows, and raging rivers. In 1902, lands were first set aside as forest reserve. In 1907, this forest reserve was officially named San Isabel National Forest. From 1907 to 1945, the San Isabel National Forest grew to include several other large forests and additional lands. Today, the forest has over 800 miles of hiking trails, several ski areas, 19 fourteeners, several scenic byways, and dozens of campgrounds.